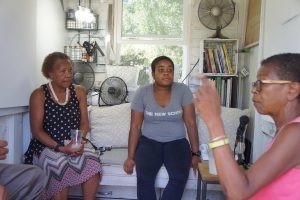 Danielle conducts interviews in Studio South Zero. Photo credit Torkwase Dyson
How has environmental racism impacted Black communities? A recent Press Record two-part podcast series examined this question by interviewing two scholars who have used oral history to understand environmental racism and efforts for environmental justice in Lowndes County, Alabama, Baden, NC, and Mebane, NC. Listen to scholars and oral historians Danielle Purifoy and Pavithra Vasudevan, as well as excerpts from their interviews.
In Part I, you'll meet Danielle and Pavithra and listen to them discuss their projects and the meaning of environmental racism. You'll also hear some of the people they interviewed explain their firsthand experiences fighting for environmental justice in the South.
Link to embed Part I:
In Part II, you'll hear more about specific moments from the oral histories they collected, how Danielle and Pavithra showcased their oral histories to the public, and how they continue to press forward in research and activism amidst bleak realities of environmental racism.
Link to embed Part II:
For more about the series and the Press record podcast: https://sohp.org/episodes-14-and-15-environmental-racism-and-oral-history-part-i-and-part-ii/
For more information about the North Carolina Environmental Justice Network here: http://www.ncejn.org/
Find the link to the Scalawag series on In Conditions of Fresh Water here: http://www.scalawagmagazine.org/in-conditions-of-fresh-water-home/