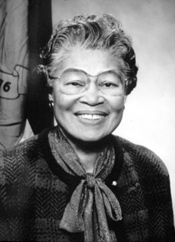 "…[W]e have not acquired full freedom. The movement continues…even though at this point it appears that we have access to a few more opportunities, we are not yet full citizens in terms of our definition of what a full citizen is or should be. Sometimes it is not only upsetting but it angers some of us that we should have to strive and work in a manner that we do. As soon as we think maybe we are maybe making a little progress then it seems that racism and prejudice become very much apparent again. I guess for some of us who are older and have something to compare us to, and have a long time in the struggle, it can anger us. It can cause us to become so disgusted that we feel like we want to become sometimes, should I say, rebellious."
– Annie Brown Kennedy (1995 SOHP interview, around 29 mins)
In many locations around the US, municipalities held local primary elections at the beginning of October and general elections will take place in early November. This year there is an increased interest in local politics. A wave of younger candidates, including many Black people, women and LGBTQ people, are running for office. This wave of underrepresented candidates builds on the contentious history of Black voting rights, and Black elected officials from the Reconstruction era, from after the passage of the Voting Rights Act of 1965, and up to the present. Historically, the issue of Black voting rights has been tied up with Black political power, Black landownership, and the possibilities for Black communities. Black elected officials have played key roles in shaping Black communities both in all-Black towns and cities and in multi-racial and white-dominated locations. The upcoming Black Communities Conference, sponsored by the Southern Oral History Program (SOHP) and several other entities at UNC, will examine these and other issues.
Many interviews related to Black voting rights and Black elected officials are available in the SOHP archive. Read more about Annie Brown Kennedy, the first Black woman to serve in the North Carolina General Assembly, and the SOHP interview with her, on the SOHP blog: https://sohp.org/2017/10/23/election-season-annie-brown-kennedy-black-voting-rights-and-black-elected-officials/