Black communities have long faced educational inequalities and many have advocated for equity and resources for Black students and schools, and what is today often called " the academic achievement gap."
An interview with Dr. Pearlie Dove engages these themes. Dove was an African American woman and an educator at Clark College (later Clark-Atlanta University) from the 1940s to the 1980s and passed away in 2015. The interview was conducted by Kathryn Nasstrom in 1992 as part of the project "Southern Women: Special Focus: Black and White Women in Atlanta Public Life" (Project G.2.2 in the database). Nasstrom subsequently used the interviews in her UNC dissertation, titled "Women, the civil rights movement, and the politics of historical memory in Atlanta, 1946-1973" available through UNC.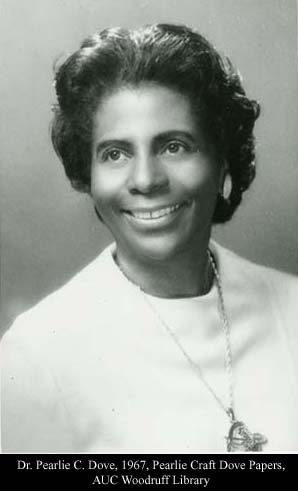 Dr. Dove was known for being "an advocate of a quality education for teachers and children, in particular minorities and African Americans," according to a profile on the Delta Sigma Theta Sorority website for Atlanta. At Clark-Atlanta, Dr. Dove served as chairwoman of the Department of Education, Distinguished Professor of Education, and Director of Student Teaching. In the interview with Nasstrom, Dove discusses her approach to equity in education; the scholars, educators and family members who influenced her; her graduate school experiences in Atlanta and Chicago; and the trajectory of her career as an educator of teachers. She discusses the role of government funding, segregation and desegregation, and the civil rights movement in shaping educational opportunities for African Americans, and a program she ran to place African-American student teachers in predominately white schools. She saw desegregation as a process that included both gains and losses for African American students and communities. She also described the role of teachers as leaders in Black communities but ones who could be "scared off very easily." She discusses the role of the NAACP, the YWCA and the American Federation of Teachers on Black educational experiences, as well as on her own perspective on equity in education.
On upbringing and education: "I was surrounded by a number of teachers because they were my aunties' friends who were always in and out of the home and education was a priority of my family. It was one of the things that you were just expected to do."
On the strategy for integrating schools: "When the members of the NAACP and teachers realized that families could be victimized if they tried, you know to enroll their children in recently desegregated schools, they had to com up with another plan. So the next line of action…was to target children from homes where their parents wouldn't be as vulnerable. They sought children of physicians, entrepreneurs, lawyers, black college professors and staff members and those working for private organizations sympathetic to the cause."
On teachers as civil rights leaders: "Well, you know in the black communities, the teachers were the leaders…they were the ones who belonged to many of the civil rights groups. However, they, too, were — could be scared off very easily."
On the process of integration for teachers: "The only thing that disturbed me about these hearings is that they were held for the citizens to air their concerns relative to integration. And I guess the teachers could attend, you know, these town hall meetings as citizens. But, to my knowledge, there were no similar forums to prepare the teachers or students to address issues of integration."