During the Jim Crow era when it was nearly impossible for Black people to get a loan from white-run banks, African American community leaders established their own credit unions as an alternative means of saving and borrowing money. The first African American credit union in North Carolina was founded in 1918. The number continued to grow into the 1940s, when North Carolina had fifty-five, nearly as many as all other states combined. In 2012 and 2013, the SOHP conducted a project suggested by Self Help Credit Union on early African American credit unions in North Carolina. Together, narrators Rev. Joseph L. Battle, Timothy Bazemore, Amaza Byrd, William Kennedy, Mason McCullough, James T. Mountain, Charles Sanders, and Saundra Scales reveal how they and their communities adapted to segregated banking by creating and growing their own credit unions. Even after many racial barriers fell, black credit unions continued to grow and merge with others into the 21st century.
Check out a digital exhibit based on this collection of interviews.
The exhibit includes audio clips, archival photos and documents: http://sohp.org/research/african-american-credit-unions/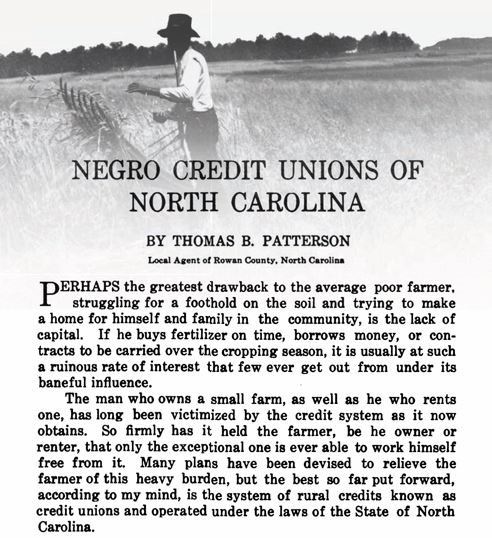 Caption: Thomas B. Patterson, "Negro Credit Unions of North Carolina," The Southern Workman (1920), 180.